About
Byrke Lou speaks on innovation and the future of tech for businesses, daily life, and the entertainment industry at the most renown conferences of tech and innovation, including SXSW (over 400.000 attendees), Summit L.A. (the world's preeminent ideas festival, with AL Gore and Gary Veynerchuck as keynote speakers), re:publica, the International Festival for Animated Film Stuttgart (the leading event for animated film, with 100.000 visitors), Tech Open Air Berlin (20.000 attendees), and many more. As a panelist, she discussed the future of AI and AR with the CEO of PIXOMODO, the CEO of LANDR, the Head of the Cultural and Communications Department of the Federal Foreign Office Germany, the Head of Marketing of Fraunhofer HHI, and more.
Byrke Lou has programmed complex systems such as AI systems as part of her Bachelor Thesis. Since 2013 she researches the digitisation of our life and the human body. Since 2017 she has created university courses around mixed reality and artificial intelligence. In 2016 she gave a talk on rethinking sensing for virtual realities.
WHO IS BYRKE LOU
Possibilities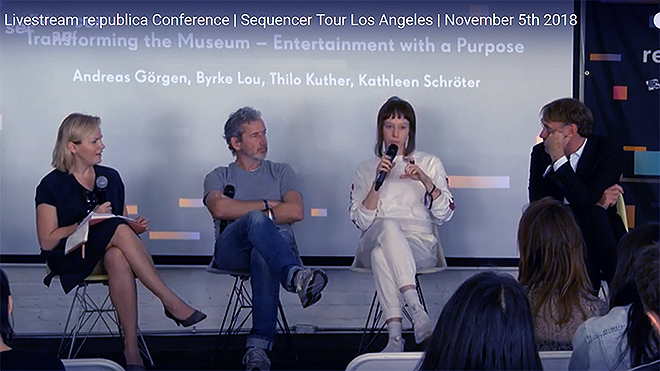 Talk

Byrke Lou speaks on the impact of new and emerging technologies. In particular, she analyzes their impact on our future lives, future businesses, the future of entertainment, and the future of creative processes.
Keynote

Byrke Lou holds keynotes on the impact of new and emerging technologies on different areas of our future lives.
Lab

Byrke Lou produces research labs, which explore topics relevant to your business. If you feel your team should explore a new way of working, collaborating, and generating ideas, please get in touch.
Curating

Byrke Lou curates exhibitions, panels, events, and shows. If you need programming around specific technologies, topics, or questions.
University Lecturer

Byrke Lou teaches art and media as well as tech-related artistic practice, from sculpture to performance art. Byrke Lou teaches at the postgraduate university level.